04 Jul

EU4EU Internship experiences: Ulkar Osmanova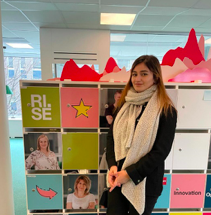 Rome, 04 July 2022
Among the students who did their internship in Europe this year thanks to EU4EU – Erasmus+ is Ulkar Osmanova, a student at the University of Rome La Sapienza, enrolled in the second cycle of studies in Economics and business administration.
Ulkar spent 6 months at RISE – Research Institutes of Sweden in Vasteras, but chose to stay in Stockholm. We at EU4EU asked her a few questions about her work and personal experience in a new European country.
1 – Why did you decide to join the EU4EU program?
As an international student, I was looking for the best career opportunities. I knew that joining EU4EU would help me find an internship. Numerous Host Organizations are part of the program, and I wanted to see if I would be able to join one of them. Plus it is not just an internship; it is a students supporting program that give us a chance to broaden our experiences.
2 – Was it easy to join the program?
In my opinion it is very easy to join the EU4EU program, as long as you carefully follow the rules provided. They explain the entire registration process. I have not encountered any difficulties.
3 – Tell us your experience about living in another country (finding home, social relationships, friends, language, ecc…)
I moved to Sweden in January. My internship was held in Vasteras, the city near the capital Stockholm. Since Stockholm had more accommodation options, I chose to stay there. It was 1 hour ride by train to Vasteras, so it was quite easy to get there. I was staying in a house of a family that was very friendly to me during all my stay. Generally, people in Sweden speak English very well and this was a big plus for social life. The family that have hosted me tried to teach me Swedish language and it was amusing to learn some new words. Obviously, Sweden is a northern country so – especially in January – there is always snowy weather. So sometimes it was difficult to travel to my office or do some activities. Apart from that, this country and its people made me very satisfied and I have never regretted my choice.
4 – Tell us your experience about working in another country (it was hard/simple, my supervisor was great/bad, my colleagues were great/bad, difficult to understand, ecc…)
Having worked in Sweden and having supervisors like mine has been a blessing. They were very supportive all the time and they always cared about me, especially when I had problems understanding work processes. My supervisor Ali Balador was great to me, helpful and supportive. He provided me with all the information I needed to know, he introduced me to other colleagues and partners and he made it this all a lot easier for me than I have ever expected. All the colleagues were good to me; in a short time everyone got to know me and soon I was given some tasks to do on my own. I'm so grateful for the experience I gained in Project Management and Researching, and I enjoyed so much working in this project and learning about IT industry as well as AI and Edge Computing. Throughout this journey, help and support of my supervisors Ali Balador and also Daniella Magnusson has been invaluable.
5 – How important do you think it is for a university student to get an internship in Europe?
I think it is very important because it's a big motivation for a student that has never worked on his profile or never made any sort of income out of it . So it is essential for the students to start having this feeling of getting something by their academic achievements. These little steps are great steps for their future career.
6 – What do you think will be the advantages from this experience?
This internship is a big advantage itself for me. I always aimed to gain working experience before graduating, dreamed of working in an international environment, gaining colleagues and friends from other countries. Now I have achieved this, and I could not be happier
7 – Did you get what you wanted from this opportunity?
The answer is yes. I'm not working at the moment, but I believe that this internship will help me to find a job after my graduation. In my opinion, hiring someone who has recently experienced working in Europe in a major country would be a great catch for an international company.
8 – Will you participate in the EU4EU program in the future?
If I had the chance, no doubt I would do it again and again, because EU4EU was my life saver. In other words, it helped me a lot to discover myself and the world around me. Having such a fulfilling experience happened first and foremost because of this program.
9 – Would you suggest another student to join the EU4EU program? Why?
Absolutely. While I was in Sweden doing my internship, my friends immediately started asking me how I found this opportunity and how I applied for the program. I explained to them all the steps of the process and gave only positive opinions.
EU4EU Team